15 West Ave. Spencerport, New York | 21 Main St. Churchville, New York
Funeral Homes in Hilton NY
Whether looking for affordable Funeral Options or Cremation Services, Walker Brothers Funeral Home is your local funeral home located near Hilton NY and can service and cater to the families in the surrounding communities such as Bryon and Greece NY.
Hilton NY Funeral Homes
While there may be other reputable local Funeral Homes in Hilton NY serving families, Walker Brothers Funeral Home is there for you and stands by you every step of the way to ensure we give your loved one an honorable Funeral Service.
Allow Walker Brothers Funeral Home the chance to serve your family. Contact us today to learn more about our Affordable Cost Options.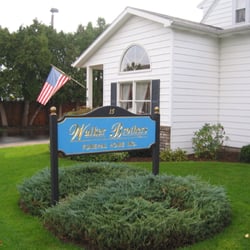 Frequently Asked Questions
How can I best shop and compare funeral service providers?
Talking with friends who have used the services of a funeral home or your personal experience from attending funeral services of friends or relatives at a variety of funeral homes are excellent methods of comparison. You might also consider just stopping by a funeral home unannounced to experience how you are treated. To a lesser degree, you can also gain some experience from randomly contacting various firms by telephone. You can call your local Better Business Bureau to see if complaints have been filed against a local funeral director, and whether they were satisfactorily resolved. Also, you can call one of the national funeral trade associations, which have standards of ethics, to see whether your local funeral homes are members.